Portrait of a Young Woman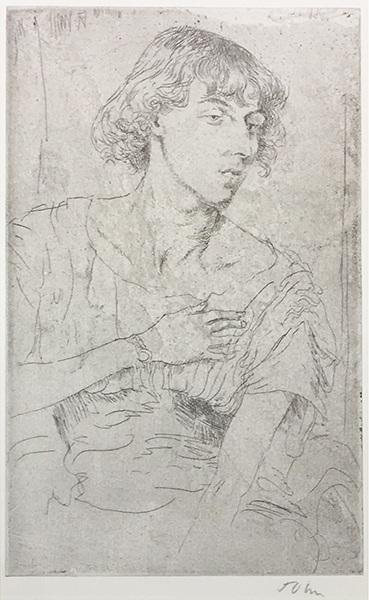 Portrait of a Young Woman
Augustus John RA
Portrait of a Young Woman
Etching
19.5 x 12.2cm (image)
This work is signed by the artist.
Augustus Edwin John RA was born in Pemrokeshire in 1878, and studied at the Slade School in the 1890s. He was described by Wyndham Lewis as 'a great man of action into whose hands the fairies had placed a paintbrush instead of a sword'.
After becoming well-known for his drawings and etchings, for a short time around 1910 he was an important exponent of Post-Impressionism in the United Kingdom. Compared with Gauguin and Matisse, John developed a style of portraiture that was imaginative and often extravagant, becoming recognised as one of the most talented draughtsmen of his generation.
By the 1920s John was Britain's leading portrait artist, painting many distinguished contemporaries including TE Lawrence, Thomas Hardy, WB Yeats, Aleister Crowley, George Bernard Shaw, and fellow-countryman Dylan Thomas. The Royal Academy mounted a huge show of his work in 1954, seven years before his death in 1961.