Thoughts Reflected in a Mirror: Beauty Playing With a Cat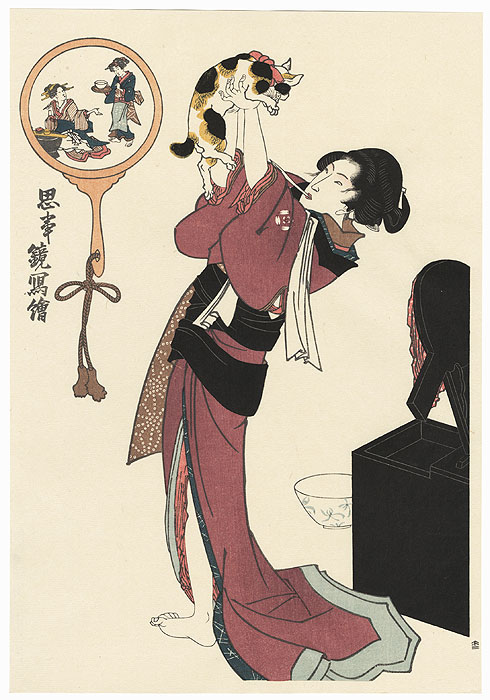 Thoughts Reflected in a Mirror: Beauty Playing With a Cat
Toyokuni III/Kunisada (1786-1864)
Thoughts Reflected in a Mirror: Beauty Playing With a Cat
Woodblock, 20th Century reprint
37.4 x 25.4cm (image)
Mounted
This work comes professionally mounted by Gallagher & Turner.
Lovely design of a beauty playing with a cat, holding it high in the air, her loosely-wrapped kimono flowing around her. A makeup stand and porcelain bowl sit on the floor nearby. An inset in the form of a hand mirror shows a servant bringing a bowl of tea to a beauty.
In the early 20th century, the Yuyudo publishing house had already distinguished themselves as one of the finest in Japan. They adhered to the same exacting standards of 19th Century publishers whilst some of their contemporaries took shortcuts. In the 1950s, as interest in Edo era woodblock prints was reigniting, Yuyudo embarked upon a project to reproduce prints by the great masters from the Golden Age of Ukiyo-e. They hired the finest woodblock printers and carvers in the world for this endeavour. The resulting reprints were some of the highest quality reproductions ever made, including this fantastic image.