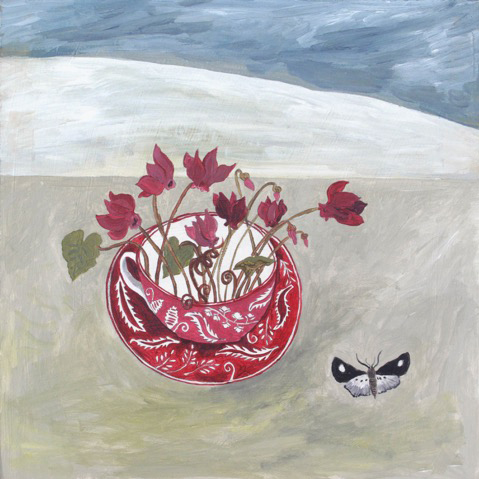 Each of the artists in this exhibition strives to capture a sense of time and place in their own distinctive way. Some construct engaging narratives, or use carefully selected objects and compositions. Others immerse themselves fully in the culture of their surroundings.
Norman Cornish's studies of off-shift miners sensitively and compassionately depict the harsh reality of life in the pits of County Durham, and the camaraderie of men 'soaking up the good crack'. Further north, Brita Granström and Mick Manning split their time between the Scottish Borders and Granström's native Sweden, creating work informed by windswept landscapes and wildlife encounters. Internationally known for their work together producing richly illustrated children's books, Granström's paintings and Manning's printmaking both mix narrative elements with delight in the natural world.
London based Ray Richardson also creates multi-layered narratives in his cinematic, dynamic pictures. Although filled with urban tension, they are not overtly hostile, but instead filled with action and humour. He depicts characters from his familiar native environment, with generous helpings of his child-to-manhood memories thrown in, creating a British urban scenery of drama played out in pubs, parks, football matches and on the street.
The carefully constructed still-life paintings of Debbie George have a richness and intensity that far exceeds their small size. Compositions of delicate flowers and feathers in solid, sculptural jugs and vases sit peacefully in domestic spaces, or open out into vast landscapes influenced by the hills around the artist's West Yorkshire home. George's cool, calm palette is balanced by the powerful vibrancy of Peter Quinn's watercolours. A member of the Royal Watercolour Society, Quinn's work demonstrates perfectly a confident draughtsmanship and an eye for the details that capture the spirit of places so completely.

All works are be available for sale.

Images:
Peter Quinn, Saturday afternoon, quayside, Tobermory, Isle of Mull, Watercolour on paper; Norman Cornish, Salvin Street, Ink and watercolour on paper; Mick Manning, Berwick Salmon, Pochoir stencil print; Brita Granström, The Fishmonger's Daughter, Acrylic on canvas; Debbie George, Cyclamen and Moth, Acrylic on gesso panel; Alfons Bytautas, Upheld by Stillness, Gouache on paper; Ray Richardson, Searching for the Young Soul Rebels, Lithograph; Norman Cornish, Man at Bar Smoking, Ink and pastel on paper. © Peter Quinn / © The Estate of Norman Cornish / © Mick Manning / © Brita Granström / © Debbie George / © Alfons Bytautas / © Ray Richardson / © The Estate of Norman Cornish
Open Tuesday to Friday 10am – 6pm
Saturday 10am – 5pm
Closed Sunday, Monday and Bank Holidays